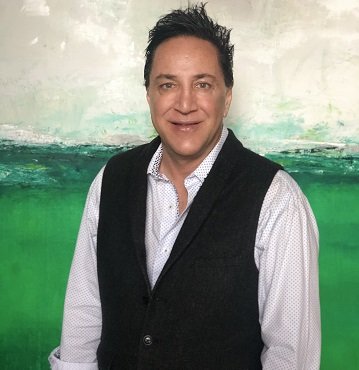 DR SAM FREEDMAN
Doctor
Dr Sam Freedman is Australian born and educated,  graduating from the University of New South Wales with a Bachelor of Medicine and Bachelor of Surgery in 1991. Dr Freedman completed his basic surgery and medical terms as a resident doctor in Newcastle at The John Hunter and Mater Hospitals. Following, Dr Freedman worked predominantly in the field of emergency medicine. In 1998, he commenced full time in general practice. He earned his fellowship with the Royal Australian Group of General Practitioners in 2002. Dr Freedman ran his own medical practice in Sydney for over ten years prior to establishing Elite Hair Clinic in 2016.
"I established Elite Hair Clinic with the aim to provide an affordable option for FUE hair transplants in Australia. I felt Australians shouldn't have to risk infection in third world countries, because they could not afford to do it here. Australians shouldn't have to worry they could not return for aftercare when financially forced to do it overseas. I could see there was great demand for FUE procedures, but despite the consumer preference for not being left with massive linear scars from an invasive FUT, because of the skills and technical complexities in doing FUE, the hair transplant doctors here remained glued to FUT. I wanted to establish a state of the art facility with the highest priority given to infection control. Affordable FUE is now a reality in this country, there is no longer a need for Australians to travel overseas.
Above all, there is something immensely satisfying about the difference we can make to peoples life. For a lot of people their whole self image can be tied up in their hair and loosing it can be completely devastating. Hair loss can age people significantly making them look even decades older. A hair transplant can take years off ones' appearance, it can restore a persons' self esteem and give them a new found confidence. This is something we see time and time again and it is always such a joy to be part of that journey"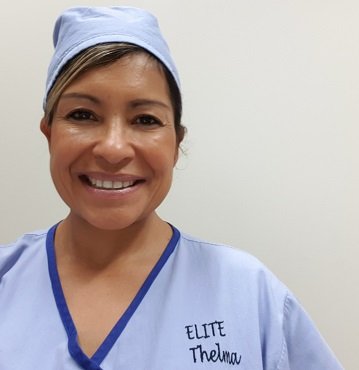 THELMA MILSOP
Senior FUE Technician
Elite Hair Clinic's Senior Transplant Technician, Thelma Milsop has almost 20 years of experience in FUT (Follicular Unit Transplantation) and FUE (Follicular Unit Extraction).
In 2000, Thelma developed an interest in hair transplantation and began her training under Dr Peter Panagotacos, a pioneering member of the International Society of Hair Restoration Surgery (ISHRS) since 1994. Dr Panagotacos is a renowned Dermatologist and Hair Transplant Specialist in San Francisco who is well respected within the medical community for his technical skill, conservative treatment philosophy, and surgical artistry. Thelma also worked alongside her sister, Carmen Pollard who was Dr Panagotacos's Senior Technician at the time. While with Dr Panagotacos, Thelma was also responsible for setting up workshops and seminars for the purpose of training and educating Doctors and Technicians.
Thelma then brought these skills to Australia and has since worked with leading Hair Transplant doctors and surgeons around Australia, New Zealand, USA and England. She has been in the medical field for over 25 years and is passionate about the science and evolution of Hair Restoration. Thelma is a highly respected mentor within her field and has trained many other, now highly skilled and successful hair transplant technicians.
Thelma has been a participant with the ISHRS, last attending their conference in Kuala Lumpur Malaysia. Over the last 7 years Thelma has assisted in the facilitation of training workshops in Sydney and has continued to mentor and train new technicians as well as assisting doctors entering the arena of hair transplantation.
Thelma regularly travels interstate, lending her skills to other leading Hair Transplant Surgeons in Australia.
"The awareness of Hair restoration availability in Australia is limited. Compared to the USA and Europe, where Hair Transplants are common place, popular and demanding. In Australia there is also a high demand. Many Australians are travelling overseas to have FUE done at a realistic cost to the everyday person.
I am very excited to team up with Dr Sam Freedman. The art and technique of FUE takes years to master. It takes patience, precision and passion. A technician is involved throughout most of the procedure with the doctor. One cannot perform without the other. Together we make a great team. Our goal is to provide an affordable and professional service that allows Australians to restore their hair without the stress of travelling overseas and the worry about infection control and aftercare. We are here to make that difference."